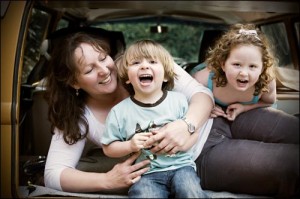 I love children and I love photography. I have always got on well with children, but I didn't know about the photography until I had children of my own. Don't get me wrong, I have always appreciated beautiful images, but I didn't know that I had a passion for creating them myself until we bought a decent camera after Tess was born. I've been obsessed with creating beautiful images ever since.
I can't quite believe my luck in finding this new obsession at this point in my life (while at the same time wishing I had found it sooner!). I have always enjoyed creative activities and working with creative people, but, having been marked down at an early age as 'not much good at art', thought that I was more of a creative thinker than an artistically talented person. My former life was spent in magazine publishing, but – armed with a marketing degree and an MBA – mostly on the commercial side of the fence.
I moved from London to the south coast in 2002, setting up home in Titchfield with my partner Rob. Our daughter Tess arrived pretty much alongside the fireworks as we were seeing out 2003, and our son Brodie came along almost 2 years later, nearly 'popping out' (definitely not an accurate description of his birth!) in a photography evening class I was taking at the time. The final member of the family came along in 2008, and you can just about see her in the photo on this page. She is called Sparkly Princess Cinderella, and is a 1974 VW campervan (currently waiting for her fairy godmother to grant her a respray so that she can live up to her name!).
I am totally focused on creating magical images that capture the beauty of the children I meet and provide meaningful memories for their families! And I really, truly love doing this. I must love it, I have enough other things going on in my life to keep me more than busy – not least of which is that we are home educating Tess & Brodie (so apologies in advance if you phone me and all you can hear is sounds of busy children in the background, or worse, my two insisting on saying hello, which they generally do at the most inopportune moments!) – but I am addicted to the thrill of creating beautiful images of babies, children and families, and seeing the parents' look of delight when they see the photos for the first time. I love hearing from grandparents that they cried at seeing the pictures of their gorgeous grandchildren, the family who have to watch their slideshow every morning before they can get on with their day, the parents who tell me they will treasure their photos forever.
Because for me, that's what it's all about. That's what drives me. Our children change so quickly, and it is incredibly important to capture moments in their lives that will forever preserve that time and create a memory to treasure in the future. How many times have you come across a photo of your child from a few months ago or, for the older ones, a few years ago and been surprised at how much your son or daughter has changed? I know I have. Sometimes they seem to be changing in front of our eyes, yet we can still be taken aback by the difference over a very short time period. The thrill for me is that I can be part of capturing some of that for a particular family. That I can contribute something so precious to that family's childhood memories. Every time we take a photograph of our child, we are adding to the treasure chest that this child will have as an adult. That will tell the tale of this child's life. That will capture and recreate memories. That this child will be able to share with his or her children and grandchildren.
If you like my style and would like to find out some more, please get in touch. You can email me on carole@indigostarphotography.co.uk.